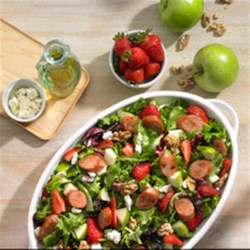 Prep Time: 10 Minutes
Cook Time: 20 Minutes
Ready In: 30 Minutes
Servings: 4
"Give your taste buds a sweet ride with this light, refreshing salad. Delicious strawberries, tart apples, feta cheese, walnuts and Johnsonville's Apple Chicken Sausage create a sweet and savory combo--a delicious and healthy way to enjoy your favorite sausages."
INGREDIENTS:
1 link Johnsonville® Apple Chicken
Sausage, sliced
1 (5 ounce) package pre-washed spring
mixed greens
1 quart fresh strawberries, hulled and
quartered
1 medium Granny Smith apple, cored and
cut into chunks
1/3 cup walnut pieces, toasted
1/4 cup crumbled low-fat feta cheese
2 tablespoons cider vinegar
2 tablespoons honey
1 tablespoon canola oil
DIRECTIONS:
1. In a non-stick skillet, over medium heat, lightly brown sausage. Set aside. In a large salad bowl, combine salad greens, strawberries, apple, walnuts, cheese and sausage.
2. In a small bowl, combine vinegar, honey and oil. Pour over salad and toss. Serve.