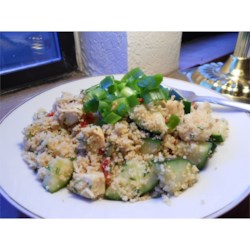 Submitted By: Shayna
Photo By: kellieann
Prep Time: 35 Minutes
Cook Time: 10 Minutes
Ready In: 45 Minutes
Servings: 6
"Assemble this light, refreshing couscous-chicken salad in minutes using pre-cooked chicken, chopped cucumber, sun-dried tomatoes, Kalamata olives, and crumbled Feta cheese. An easy vinaigrette dressing made with white balsamic vinegar, lemon juice, olive oil, and fresh rosemary adds an enticing herbal accent."
INGREDIENTS:
2 cups chicken broth
1 (10 ounce) box couscous

3/4 cup olive oil
1/4 cup fresh lemon juice
2 tablespoons white balsamic vinegar
1/4 cup chopped fresh rosemary leaves
salt and ground black pepper to taste

2 large cooked skinless, boneless
chicken breast halves, cut into bite-size
pieces
1 cup chopped English cucumber
1/2 cup chopped sun-dried tomatoes
1/2 cup chopped pitted kalamata olives
1/2 cup crumbled feta cheese
1/3 cup chopped fresh Italian parsley
salt and ground black pepper to taste
DIRECTIONS:
1. Place chicken stock in a saucepan and bring to a boil over medium-high heat. Stir in couscous. Remove pan from the heat; cover, and let stand for 5 minutes. Fluff couscous with a fork. Cool for 10 minutes.
2. Meanwhile, make the dressing by combining the olive oil, lemon juice, and vinegar in the bowl of a blender or food processor; mix on low until mixture thickens. Stir in rosemary. Season to taste with salt and pepper.
3. Combine the chicken, cucumber, sun-dried tomatoes, and olives in a large bowl. Stir in the couscous, Feta cheese, and parsley. Season to taste with salt and pepper. Toss the salad with half the dressing. Taste, and add more dressing as desired, or, if making the salad in advance, add additional dressing just before serving.